What differentiates a snapshot from a professionally taken food photograph? The first thing to mention is that the professional food photo is only taken for one specific reason: to make people hungry right on the spot and create a desire for that food to get it sold now.
What maybe sounds obvious and like an easy task is by nature a bit more complicated. Because the food itself is only food. And even when it's set in the right light it's just food. A so-called pack shot. To get it sold you have to stick something to it what connects it to the viewer's perception.
And for that, we have to step back and think about some basic sales theory here. The first stage of a sale is to create an emotional and absolute irrational bond between the product and the customer. Key is here to address some emotional stimuli by adding value. And that is where we have to talk about storytelling a bit and how to master it.
The art of storytelling
The basic idea of storytelling in food photography is to create an emotional bond somehow between the image and the viewer. You can easily do this by adding irrational value in putting some details to your food images. It can be a specific mood or some specific prop. This will – in a perfect world – evoke or recall some memories of your viewer and put them in the right emotional state to binding with your images and the shown food. If you reach such a level you nailed it.
Where to start
Because food is a basic need for every human it is a highly emotional thing. Everybody of us has developed a special approach to all the different meals and dishes we like and we dislike.
Everything we like or dislike is deeply connected to our earliest days on earth. As children, we develop a strong bond to our preferences and aversions. And which food we like and not is a cultural thing too.
But nevertheless, that is a good starting point for you to get the story told. When prepping for a shoot think not only about the food itself and how to style and present it, think also about in which setting you want to present it. Think of a special mood in a special setting which could help to create the desire for that specific food even more.
The Game
There is a game I learned from Rob Grimm – a really gifted American food photographer for over 30 years. If you don't know him, go check his site. He is absolutely stunning and a very good educator too.
The game goes so: he has 3 boxes. Each box represents something. The first box represents a character, the second box represents a location and the third box represents a meal or a beverage. So write yourself a bunch of different cards for each category and put them in the right box. And then you pick one card from each box and you have your storyline. If you don't really understand it so far just watch the video where he is explaining it exactly.
For example let's say you picked Indiana Jones, India and Whiskey. That's it. That's the story you are going to tell. Indiana Jones is drinking a Whiskey somewhere in India. Of course, you don't have to give Harrison Ford a call to book him for a shoot. But it gives you an idea, tonality and a mood. And it will change your personal style for sure. And it's fun at the end.
Maybe your wife is into yoga and she has some Indian stuff around you could easily use as a prop. Think about a whiskey glass Indiana Jones would grab and maybe put another prop into your scene – it could be a dirty glove, a camera, a piece of a treasure card or just some smoke from an incense stick. Whatsoever. This game is a good helper when you are far away from your creativity. Through that process, you can develop really fast new ideas and inspire yourself.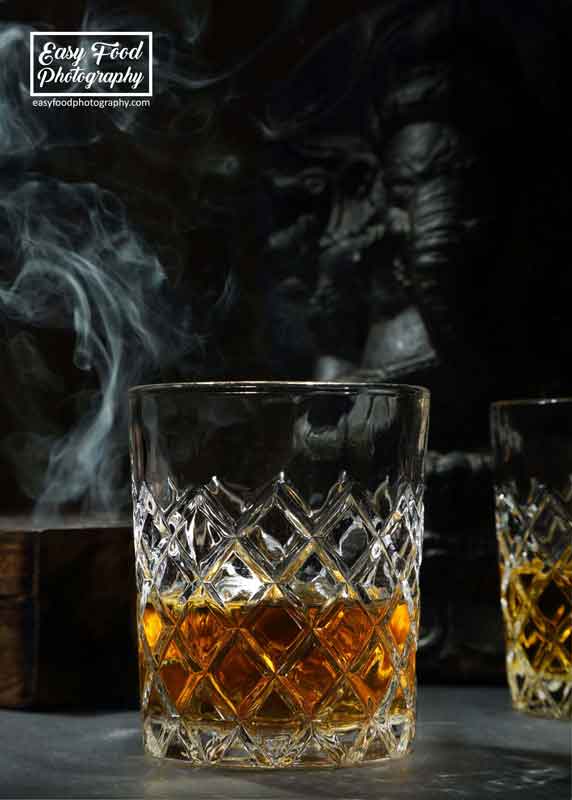 Reduce your story to the core
Another technique I use is a very simple one. I call it "reduce it to the core". Food photography is always about the food, but to put a storyline underneath your image can be often challenging. So what I always try to do is to add some "realness" to my shots.
For instance, I don't show only the pizza, I show a sliced pizza on a plate with a dirty pizza wheel beside. By adding such easy details it's easier to binding with your viewer because they know these kinds of situations. And voila they are attached to your picture. The recalled a memory of themselves cutting a pizza. And by the way pizza itself is so popular that it's easy to get many likes an Instagram for pizza shots.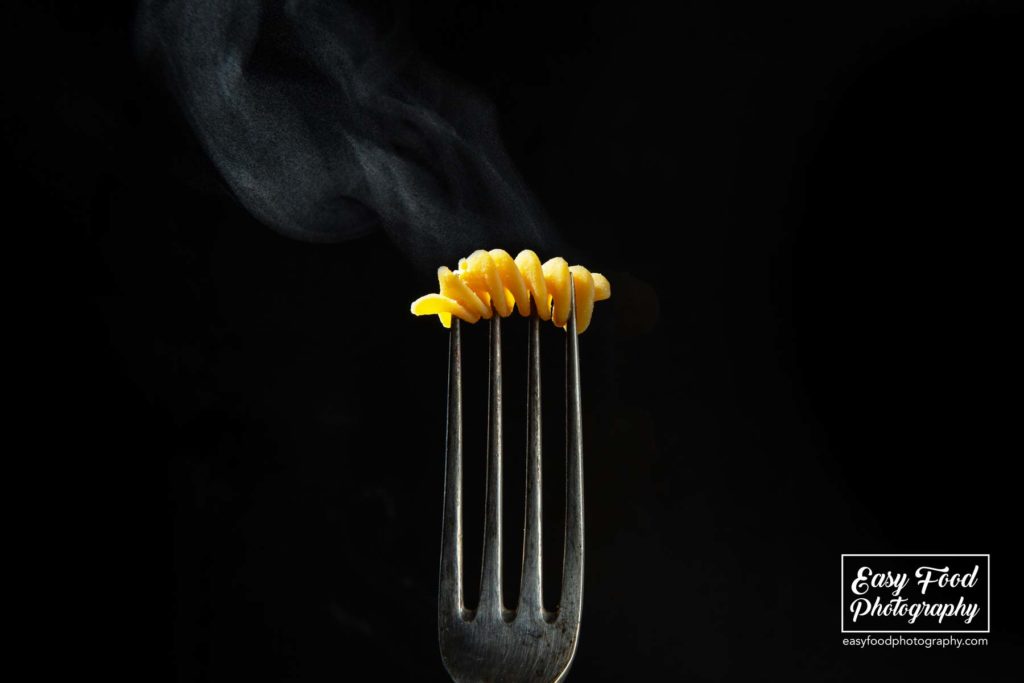 Get inspired by your idols
Or another simple example. I'm really liking the style of Andrew Scrivani another famous New Yorker editorial food photographer. There was one picture I got inspired. It was milk poured into a cup of coffee. I wanted to redo that but in my style. I made a picture with the milk pour and without. Without it just looks so boring. By adding this little milk pour it created some soul. And of course an interesting structure in the tea itself.
Adding some motion can do the trick to get you some realness in your shot. You don't have to go too crazy with your story and add tons of props etc. to make a shot interesting. Of course, you can do it, if that's your style and personal approach, but you don't have to. The small and easy steps will do too.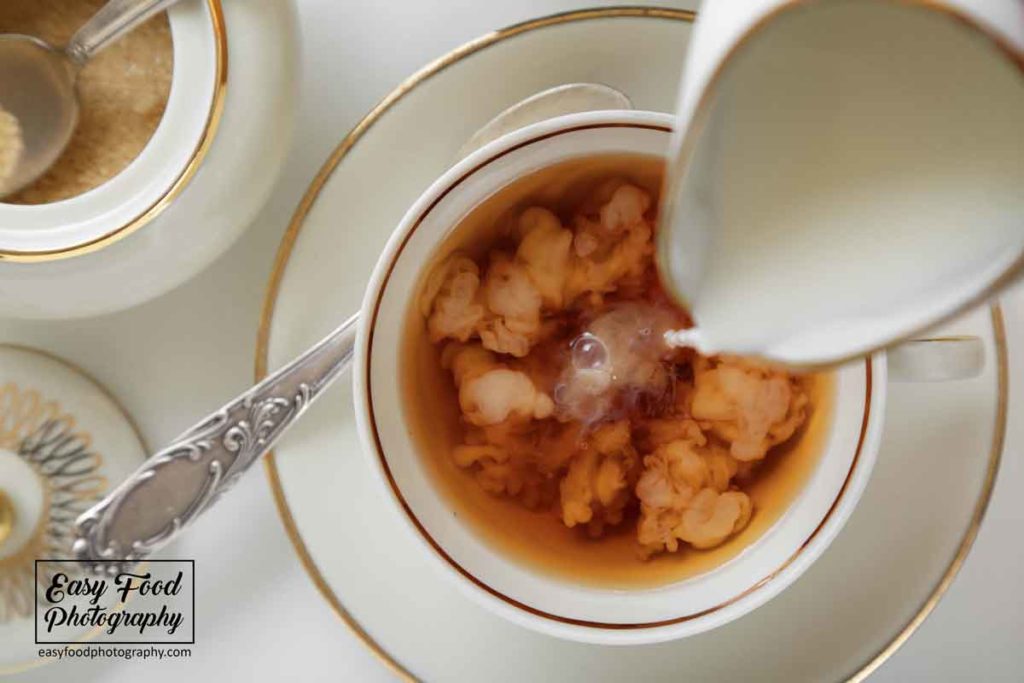 Make it sensational
Ok, my next tip to develop your very own storytelling technique is more or less the "Hollywood variant". Make it glamours, make it shiny, make it sensational. What I mean by that is a start to think out of the box.
There are thousands and thousands of very good food photographer and food images out there. But if you have a closer look you find fast out that a lot of them have more or less the same style, using the same techniques and so on. You could substitute one with another and nobody would mention the difference.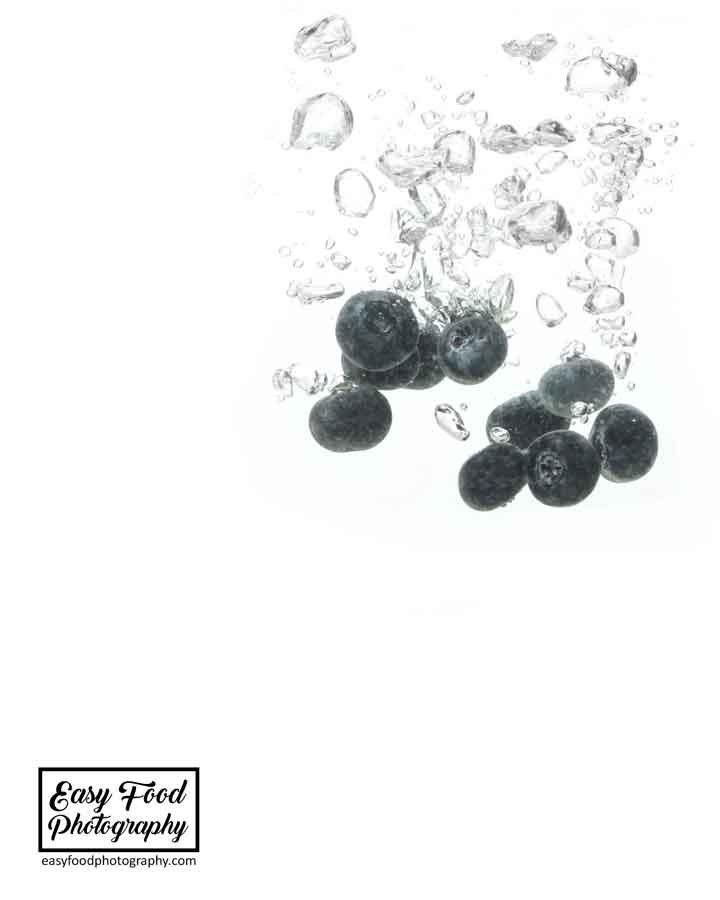 One good way to work against that and don't get caught into that trap is to think about how you can make your food images even more appealing. A good approach is to try to make it sensational because that for sure will catch people's attention. We are always looking for new stuff. Not stuff we have seen over and over again. And it doesn't have to be too complicated. I once got myself a small fish tank. And I started to throw fruits and veggies into it. And BOOM. This technique isn't very new, but it still attracts people's attention immediately because it looks so sensational. Everything with splish and splat reminds us of our very own youth. And we get emotionally bond right at the spot.
---
---
Conclusion
It is really important to give your food images a visualized storyline. In food photography, the highest directive is always to feature the food in the best possible way. The easiest way to get your viewers attached to it is by helping them to get an emotional bond. Try to evoke and recall memories in the viewer's mind.
To create that emotional bond you can use different techniques to get them where you want them. You can create a special mood or a special situation by adding the right props or you can add some motion into your pictures to tell get your story told. I found out that by adding "realness" to my photos my food photography improved suddenly.
It can be nearly everything which makes sense to add to your pictures. Here a pair of forks, there a cake where already a bite is taken etc. Keep in mind that you have to create desire and make people hungry. Keep in mind that the food is always the star. Try to reduce your storytelling to the core. Over time you will create your very own way of storytelling in your food photography. Be creative to get your story told. And have fun by doing so.
Subscribe and get my free eBook and enrol in my free 7-day-course
I wrote an eBook extra for you about "10 tips for fast skill improvement. Learn food photography the easy way". There I cover a lot of different topics on how to get started, which easy dishes you could pick at the beginning etc. I also developed a 7-day-email-course for free. There you get a topic with a challenge at the end of each day. And I swear if you put the work into my advice your food photography journey will go through the roof. Word! Just subscribe to my newsletter it down below and get your freebies immediately.
Cheers,

THIS STORYTELLING TECHNIQUE WILL CHANGE YOUR FOOD PHOTOGRAPHY FOREVER was written by EasyFoodPhotography founder and editor Alex Fuchs. Alex loves photography and good heavy stoner rock music. His food styling skills are restricted, but he is working on that. When people approach him saying "You can't do that" his maxim is always: I'll do it in a minute. He loves to be challenged. Follow his Instagram feed. You read "This storytelling technique will change your food photography forever".
By Alex Fuchs
/ 05/08/2019
A snoot can give you that extra light kick on your food or dish which is needed to let it shine. You can modify it by using a honeycomb grid to get an even more direct spotlight with hard edges. Or you can use a diffusion gel in front of it to soften the light and to get the falloff softer as well. Of course you can combine both methods if needed.
Read More
Subscribe to my newsletter, get always updated and my 7-day-course for FREE on top!
Subscribe now. Only for a short time available.
Summary
Article Name
This storytelling technique will change your food photography forever
Description
The basic idea of storytelling in food photography is to create an emotional bond somehow between the image and the viewer. You can easily do this by adding irrational value in putting some details to your food images.
Author
Publisher Name
Publisher Logo