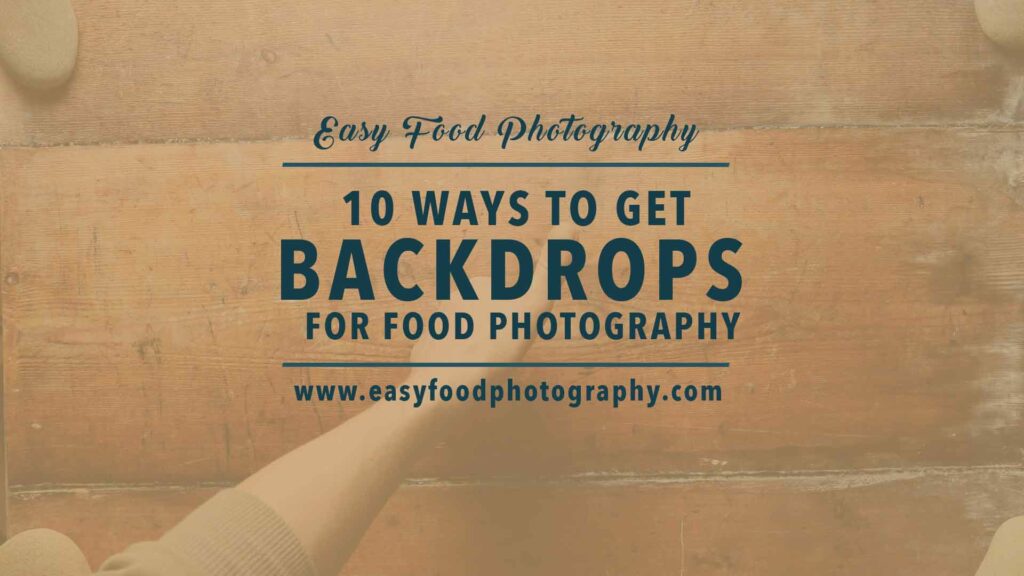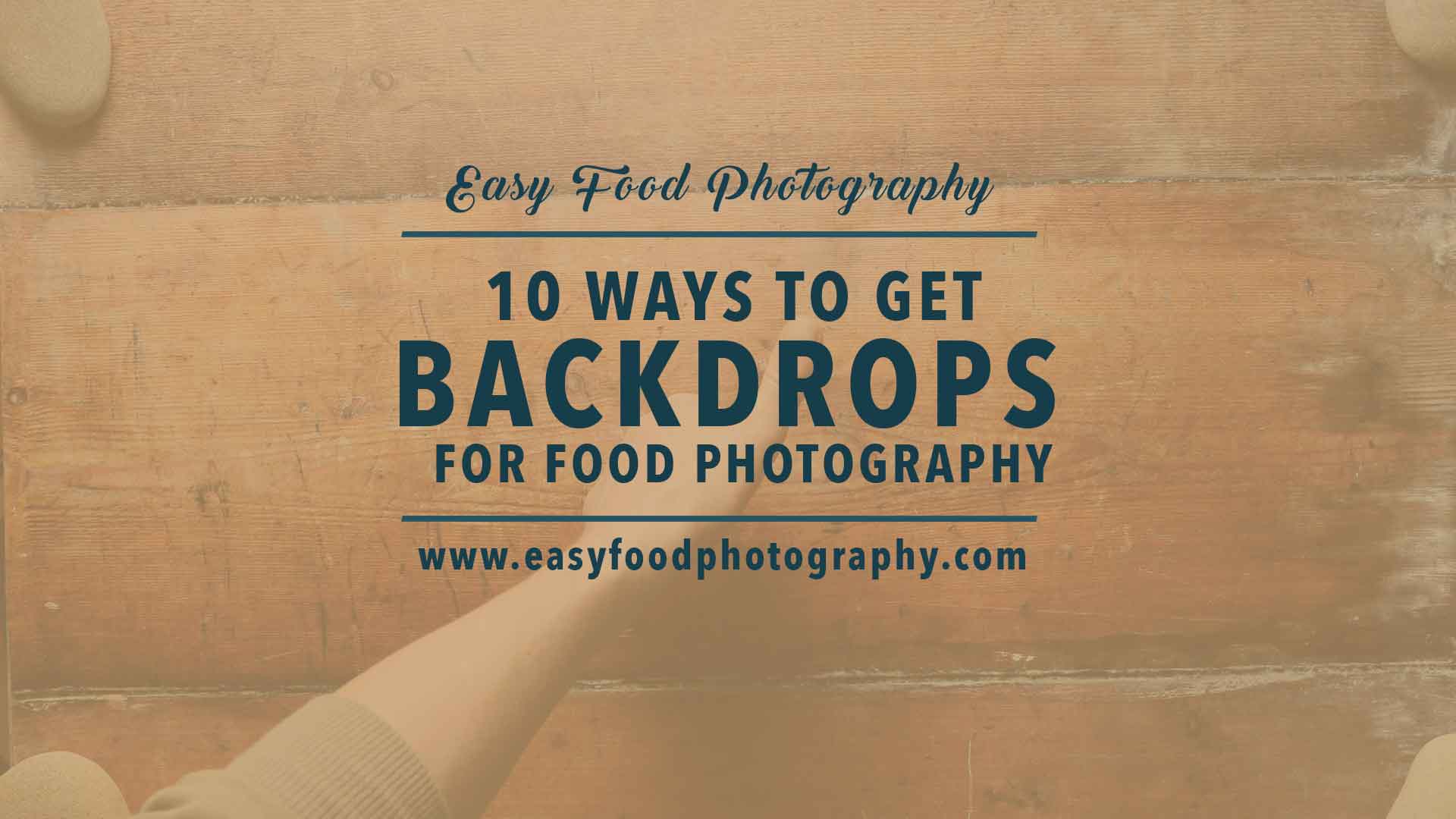 What you really need for good food photography besides the technical setup, the food itself and its styling is a suitable food photography backdrop for your image.
Backdrops can make a huge difference to your food presentation. They can be the crucial detail which brings your food to shine and make your image special or leave it in averageness.
The right background can help to pop the colours of your food. Finding the right background for your shot doesn't have to be difficult. You can find photographic backgrounds almost everywhere at home. Most of them are completely free of charge.
Go find something around you
Backdrops are essentials and can be found everywhere at your home. As a good starting point, you should look around you and watch for any kind of interesting surface: it can be a kitchen table, a worktop, the floor tiles or maybe some forgotten wooden plank in the garage or something else.
I'm pretty sure you can find some interesting around you. Use this at no cost and improve your food photography skills immediately. But before you go off, go on reading to know what exactly you are looking for and what other mind-boggling easy options you have.
The top 10 of backdrops for food photography
My personal top 10 of the easiest backdrops you can get on a budget for your food photography are:
Any interesting surface around you
Wooden cutting boards
Baking Pans
Baking or parchment paper
Linen, napkins and any kind of cloth
Craft paper in plain colours
Slate plates
Self-made backdrops
Printed photo paper
IKEA Linnmon table top
Surfaces around you
When it comes to backdrops it really matters and can make a huge difference in which kind of backdrop you are using for your shot. Just watch around and have a look at the common suspects: kitchen worktops, kitchen tables, living room tables, any kind of wooden surfaces etc.
Try different surfaces on the food you want to shoot and find the best option for you.
Wooden cutting boards
Ok, wooden cutting boards are maybe the most obvious backdrops to get access to. Cutting boards are so good as backdrops because their wooden surface matches nearly every kind of food. Food just looks good at wooden surfaces.
As a tip, you should only use really used cutting boards with some deep scuff on them because that puts some "realness" and authenticity to your images and make them even more gorgeous and outstanding. And at the end very personal, because nobody has the same used cutting board as you have!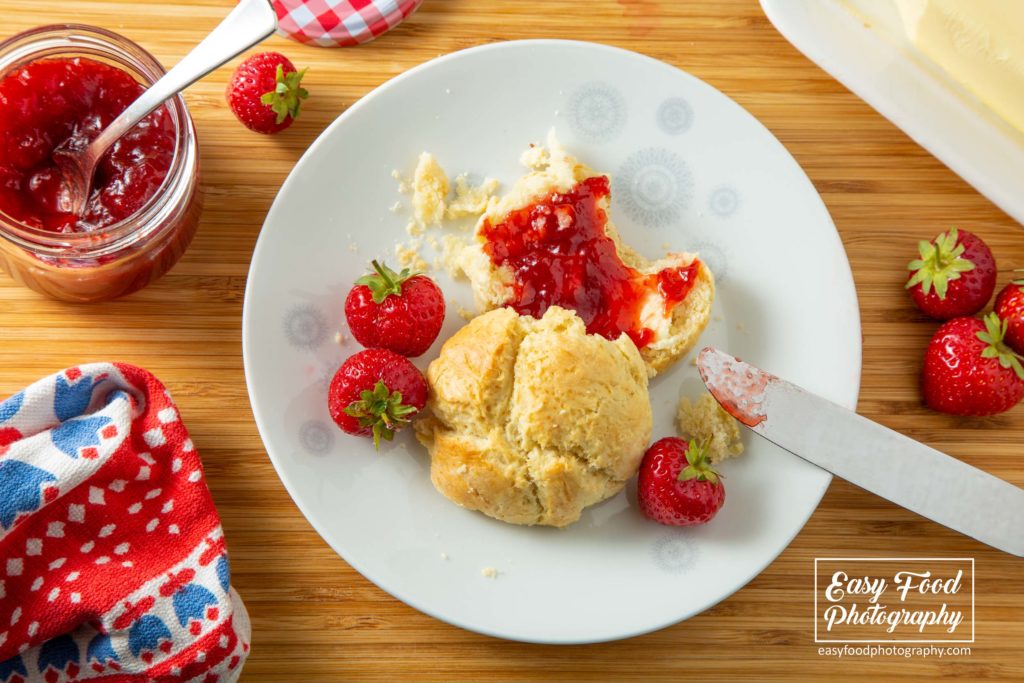 Old baking pans
I asked around my friends to get a good collection of old baking pans. They are really good to use as backdrops for your food photography and they are perfect for dark food photography as well because they get structured really well over time because the grease is baked into it and creates funny structures.
The "patina" of use give some character to your images. Ask around your friends and try to get them as distressed as possible.
For sure there are a bunch of people wanting to get rid of their old greasy baking pans because they found them disgusting. That's your chance to get some pretty good backdrops to improve your food photography at no cost. Just ask around and go for it! You have nothing to lose.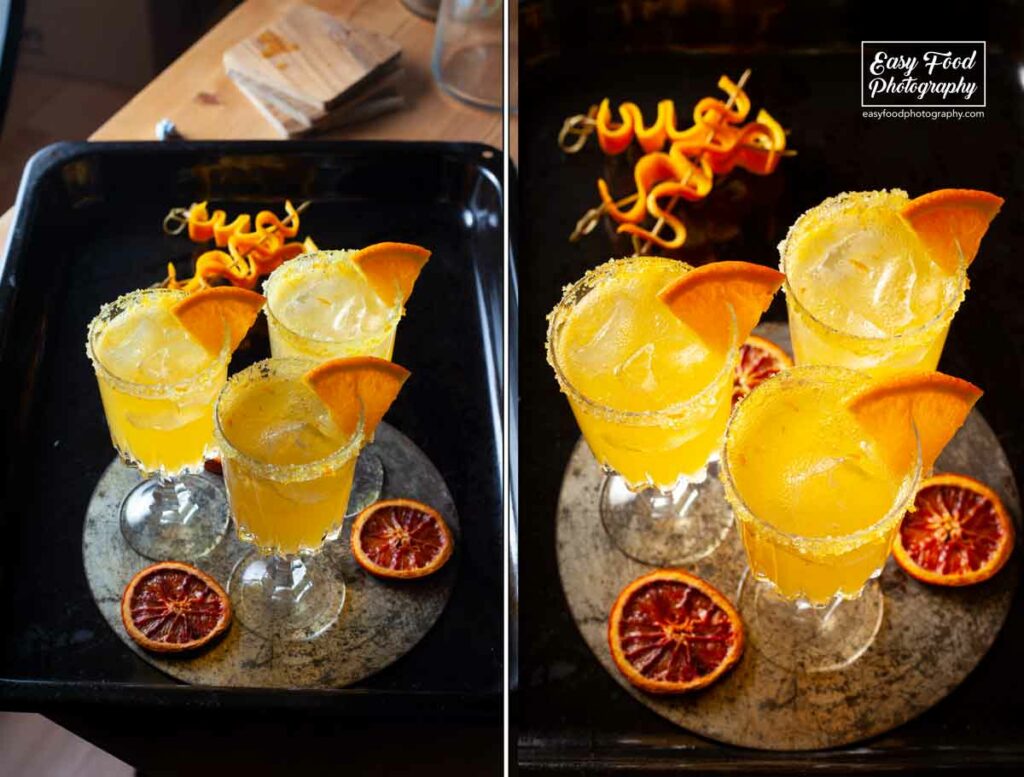 Baking or parchment paper
Another household item and easy to use as a backdrop for food photography is baking or parchment paper. It cost nearly nothing and it's always available in most environments.
I often use it when I shoot any kind of baked food like cakes or cookies, but you can use the white and more neutral parchment paper and any kind of pizza or sandwich images as well.
If you crumble it up you get it more textured and you immediately add a bit of character to my food images. You can just throw it away and get a new sheet of it when it is getting too messy.
And on the other side if your shoot is not messy you can store them and reuse them easily. Baking and parchment paper are really good choices. I remember that I used it for my first food pictures.
The brownish baking paper often helps to neutralise the colours in your image because it matches nearly every kind of baked food. Another big advantage is that you can easily cut it in size pieced for your need.
After all baking and parchment paper has always their place in my big toolbox. I only can highly recommend you to go and get some and give it a try.
Kitchen linen, linen napkins or any kind of cloth
Kitchen linens and linen napkins are very approachable. You can use them as props as well when you just crumble them a bit and throw them into your scene. Or you can lay them easily flat to use them as the only backdrop in your image.
I found out that I don't want to get them to textured and to coloured. So when I buy some new ones I always try to imagine how to use them later on in my imagery. I try to get them as neutral as I can get them. Only one colour at a time is useful for me, but it's totally up to you how crazy you want to go with that.
But as a rule, the colour should not distract the viewer's eye and lead away from your food which can happen if the colour is too bright and cheerful. But after all kitchen linens and any kind of cloth are a really easy, cheap and approachable backdrop on a budget to get.
You can try to use them as backgrounds too, but this is more or less a kind of a pain. It only works if you mount them on a foam board. If you want to use them as background you should think about ironing them beforehand.
And you should use them only very defocused when used as a background. To be honest I really dislike them to use as background because dependent on the kind of cloth you use it can cause easily artefacts and lower the picture quality because of its structure.
Crafts paper in plain colours for just a few cents
Another really cheap approach to food photography backdrops is to work with plain coloured crafts paper of any kind. You can get it everywhere in any kind of art supply store to even a one dollar shop in every thinkable colour and they only cost around a buck each.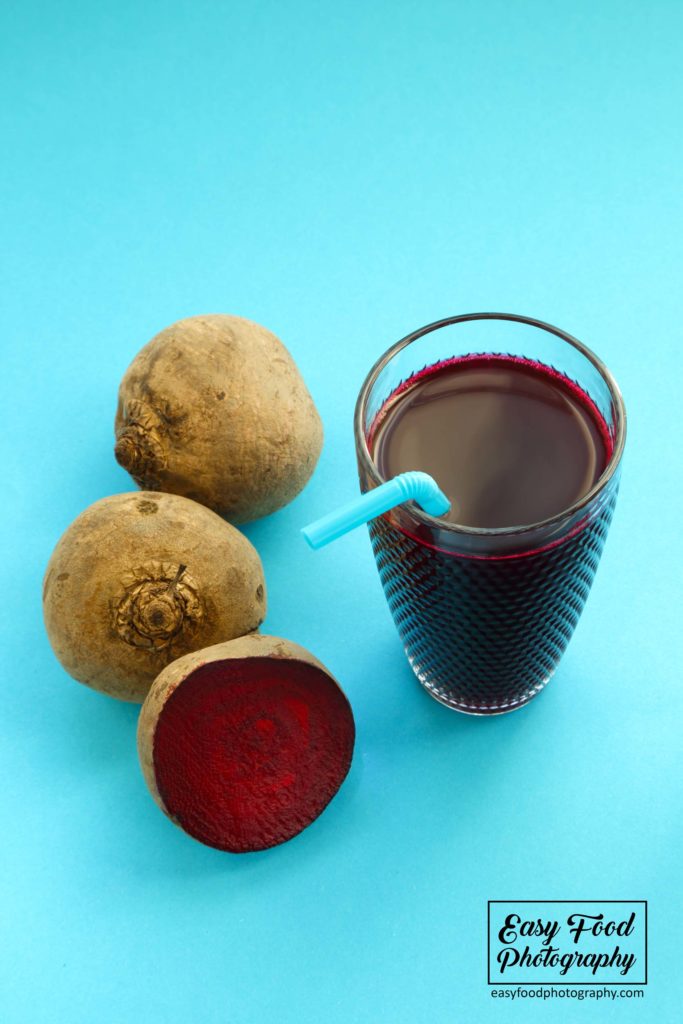 You can use them to get a very jazzy look and feel for your food images. With them, it is easy to add poppy colours to your images and it's very easy to combine them to even get more fancy colour arrangements.
But be aware: a big con is that craft paper because it is made out of paper, is soaking every kind of spillage in no time and will ruin your shot. You have to think about that if you want to use it for your pictures.
Another thing is that you have to handle them always with care because they can easily get crinkles and that looks really not good at all. If it happens by accident and you have no replacement at hand you have to retouch it in Photoshop later.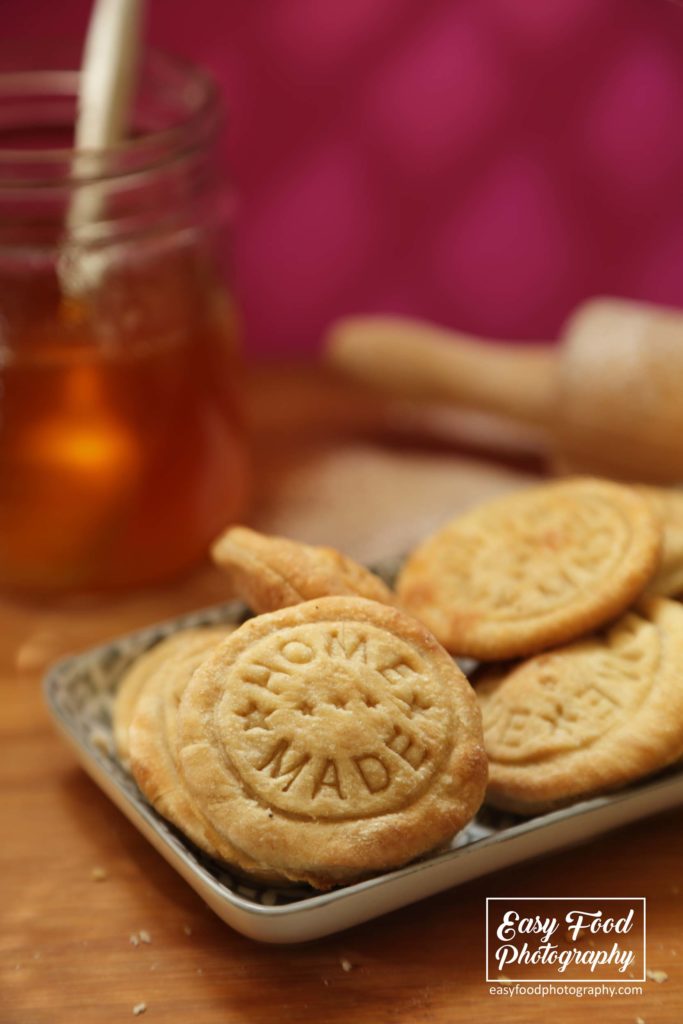 Slate plates
Slate plates are another affordable source to use as a backdrop for food photography. You can get them in nearly every kitchen supply store or online and they are not very costly.
I love to use them because they come with a very interesting surface structure, they are really handy if you need a dark background and they are really easy to clean if they get dirty. And if you use them with a watery look they still look amazing.
I have different uses for them because they are really good if you want to desaturate the colours in your pictures too and make your food pop. A big con is that they are usually very heavy. So be aware of that.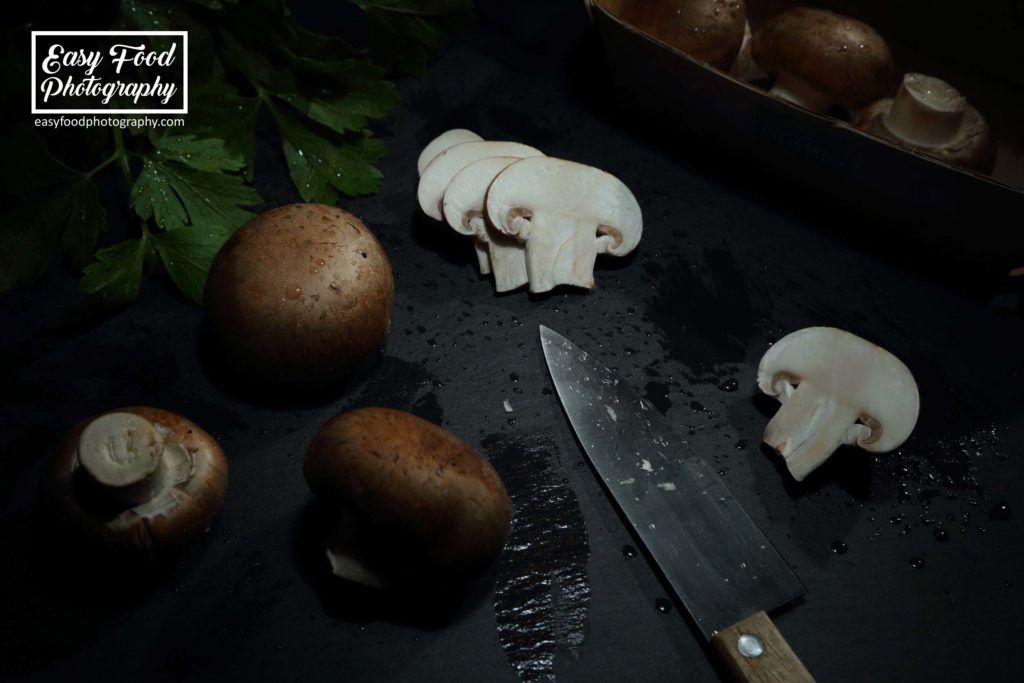 Self-made backdrops
Here is where the fun begins. Another really cool method to get some nice backdrops is the DIY method.
Get yourself a piece of plywood board or medium-density fibreboard (MDF) around 100×60 cm or so and a minimum of 10mm thick. Get yourself a putty knife and attach some putty to it. Wait overnight to get it dried and begin to paint it as you like in the colour you want.
Get creative and use a sponge or drip some paint with a brush on the board in different colours or do whatever you feel to.
Let it dry again overnight and if you want to last it longer just use some matte varnish to seal the surface.
But do yourself a favour and do it outside with some mouthpiece because matte varnish is highly poisoning. And put it away in a safe place for children. Sealing it can be a good idea because food photography can get very messy sometimes.
Printed photo paper backdrops
The first time I worked with printed photo paper backdrops I was more than sceptical because I thought they would be looking cheap somehow. But it came out for me that the concept of printed photo background is really worth a closer look.
It's a non-costly way to get access to a variety of interesting new choices. There are many different brands (Etsy is maybe the biggest) out there offering photo paper backgrounds of different qualities. Be aware of that.
For me, the best choice when it comes to quality so far is from the more than gifted English backdrop artist Sophie Purser at Blackvelvetstyling. She creates backdrops by painting and illustrating them before printing. And they are awesome! I highly recommend them. Feel free to have a look at her page.
So paper prints are really handy because you can roll them after use and store them in a mailing tube in no space. But if you want to have the most out of it you should mount and coat them on a plyboard.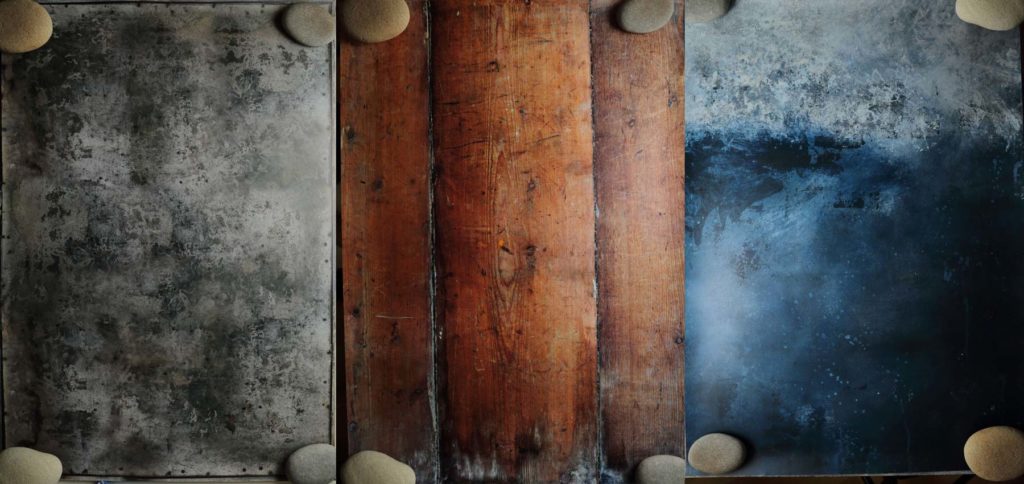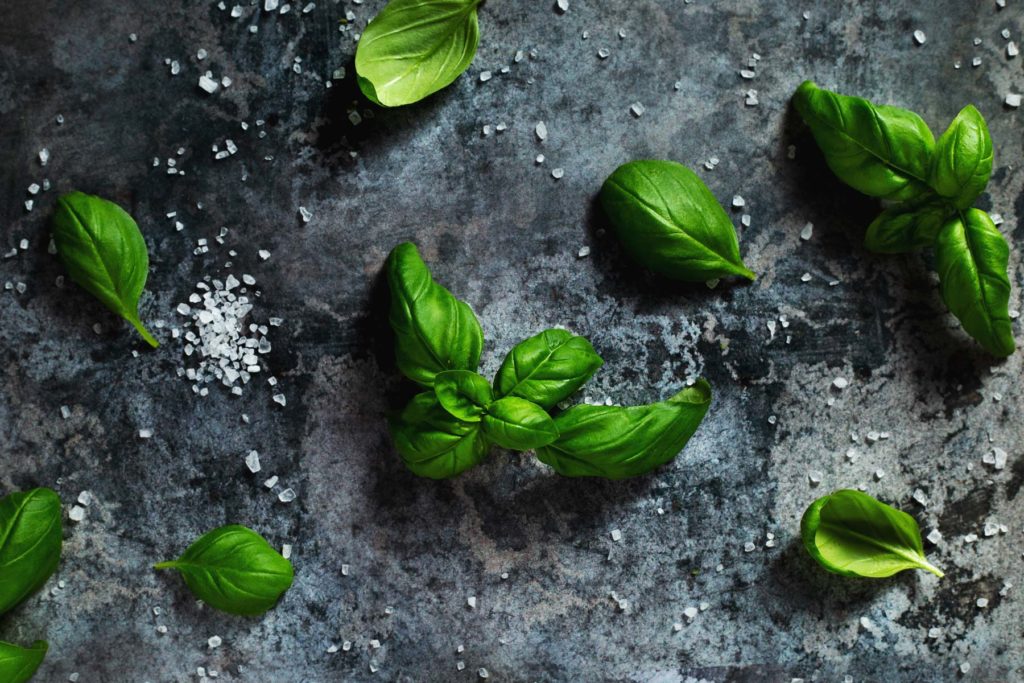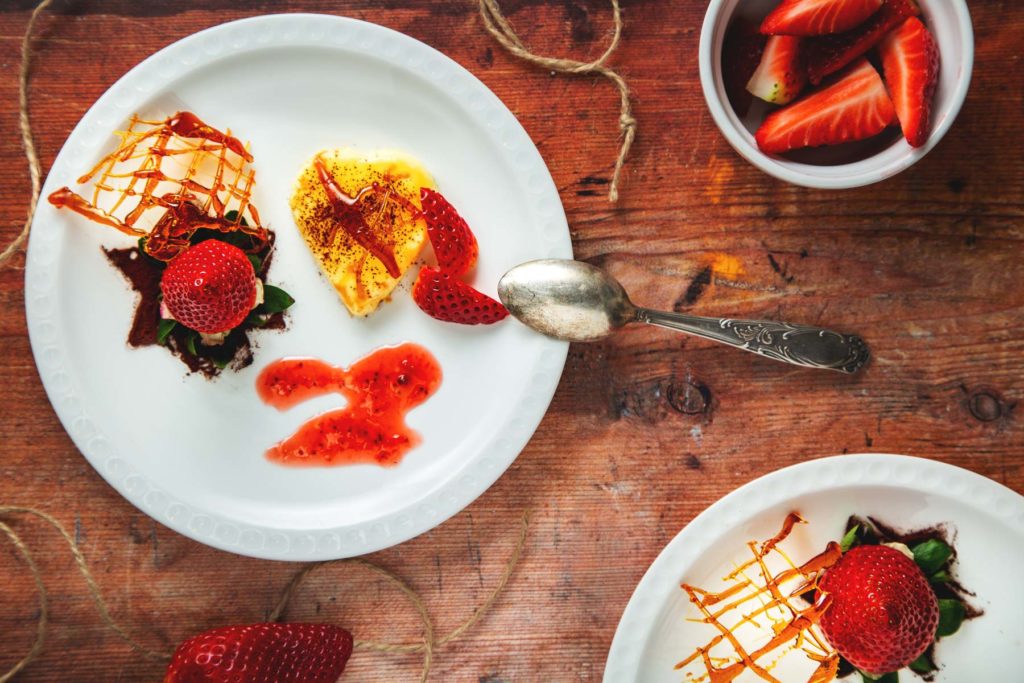 IKEA Linnmom table top
That is my all-time favourite. I hate to make an advertisement for big brands – even when I have nothing out of it – but a white "Linnmom" tabletop (100x60cm) is quite essential for my whole workflow. In combination with two of the IKEA "Lerberg" trestles, you have a very mobile worktop for around 22€ in Germany for the white matt version which is around 25 $ US.
And the reason why I really love it is that you can set it up really fast and all the same remove it to put it back into storage. Even when you have to work in small studio spaces or when you work in your home studio it is really handy to use.
I highly recommend using the white version, but it's totally up to you to choose a different colour then it's going more pricey. I love the white version because I love to work with unique colours and because white is a very neutral colour and you can use it to nearly combine it with every thinkable food or dish.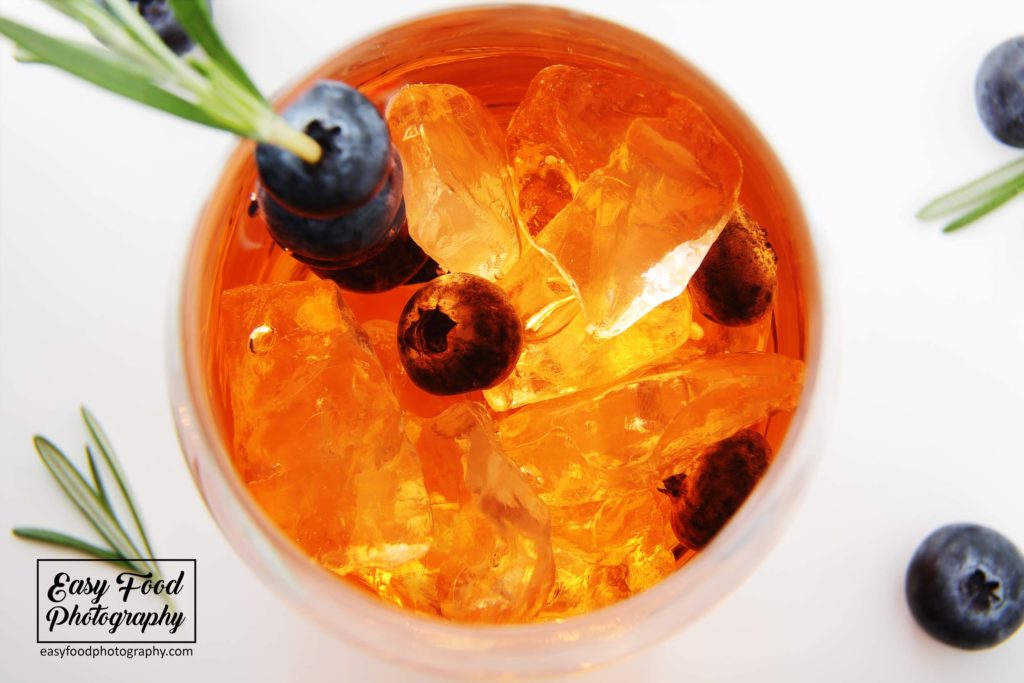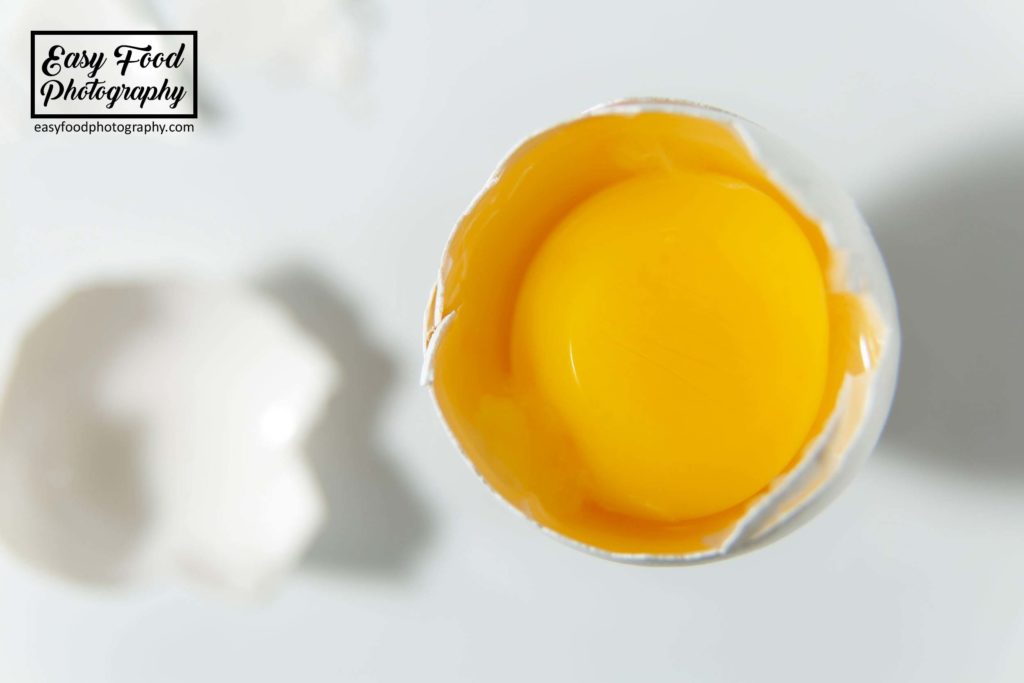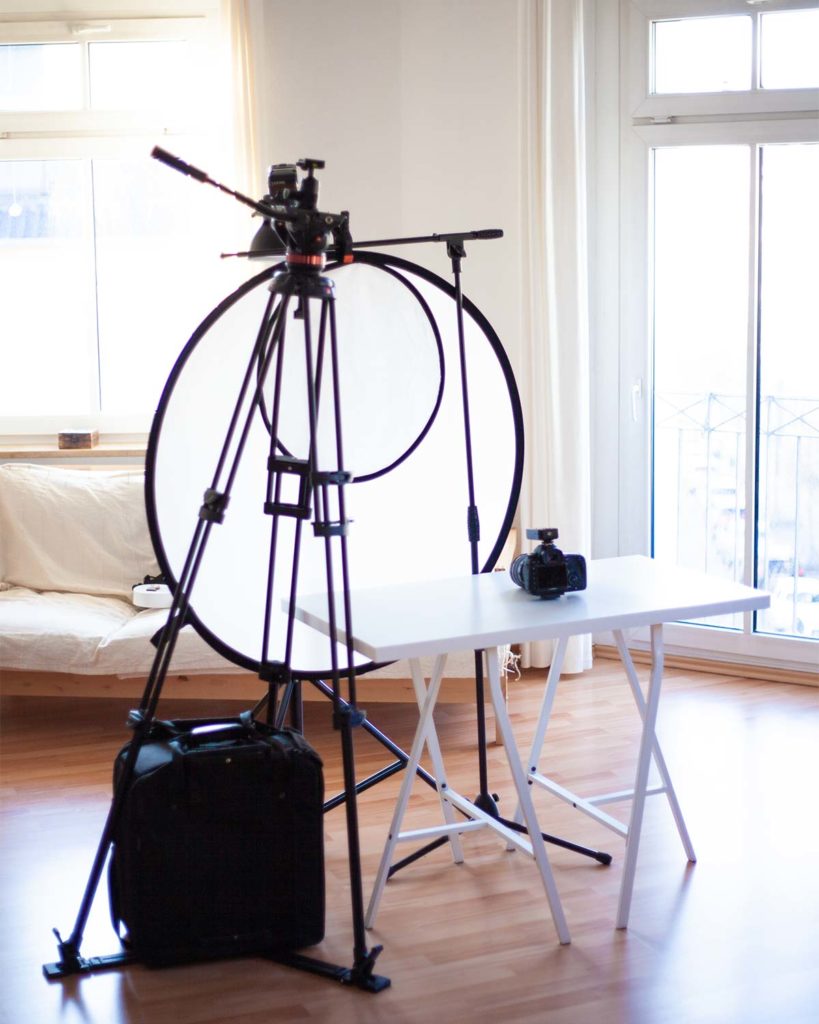 The right background is the foundation of your shot
Your background will predeterminate the essential mood of your picture. So decide wisely. Ask yourself what's in your mind.
Do you want to create a sunny mood then you maybe want to go with some brighter and lighter backgrounds?
Or do you want to create a dark food photography setting? Then you probably want to go for some darker backgrounds.
Choosing the right background relates directly to your props and the food itself. It all has something to do with the right colour tonality. So do yourself a favour and think about that to create a more stunning picture at the end.
Conclusion
When it comes to backdrops in food photography you have a whole bunch of keen options. A lot of your options are already around you. You just have to pick them up and throw them into your scene.
The variety differs from any kind of interesting surface, wooden cutting boards, old baking pans, plain or crumbled-up baking and parchment paper, slate plates, crafts paper or self-made backdrops out of plywood board, putty and coloured paint or you go for printed photo paper or the cheap IKEA tabletop solution.
So backdrops are essential for food photography, but they don't have to be very pricey. Think about the colour tonality when combining them with your food or dish.
Cheers,

10 WAYS TO GET BACKDROPS FOR FOOD PHOTOGRAPHY IN 2022 was written by EasyFoodPhotography founder and editor Alex Fuchs. Alex loves photography and good heavy stoner rock music. His food styling skills are restricted, but he is working on that. When people approach him saying "You can't do that" his maxim is always: I'll do it in a minute. He loves to be challenged. Follow his Instagram feed or meet him on Youtube. You read "10 ways to get backdrops for food photography in 2022".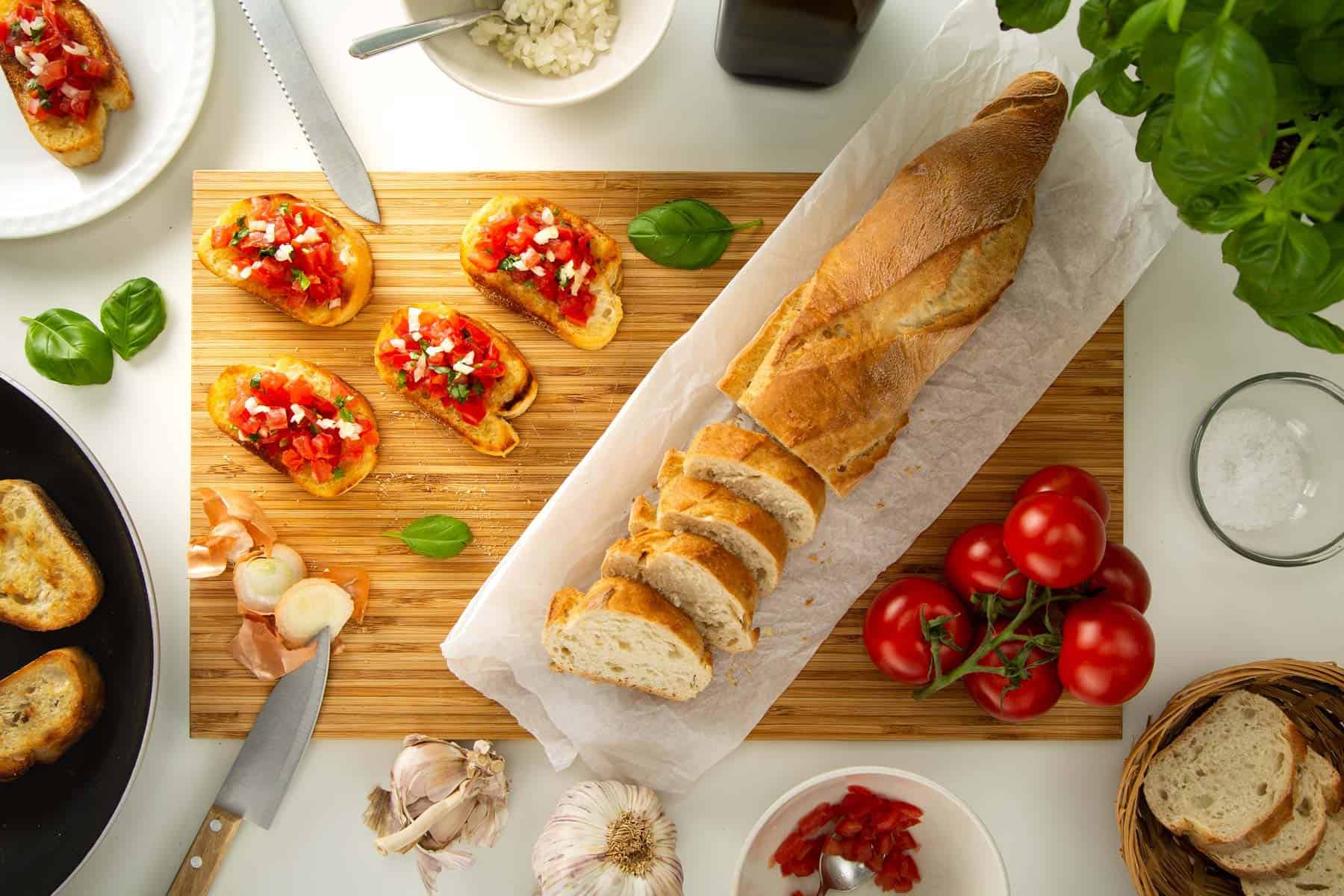 We all love a good story, don't we? The art of storytelling The basic idea of storytelling in food photography...
Read More
Feel free to subscribe to my newsletter.
I will keep you updated from time to time.
Summary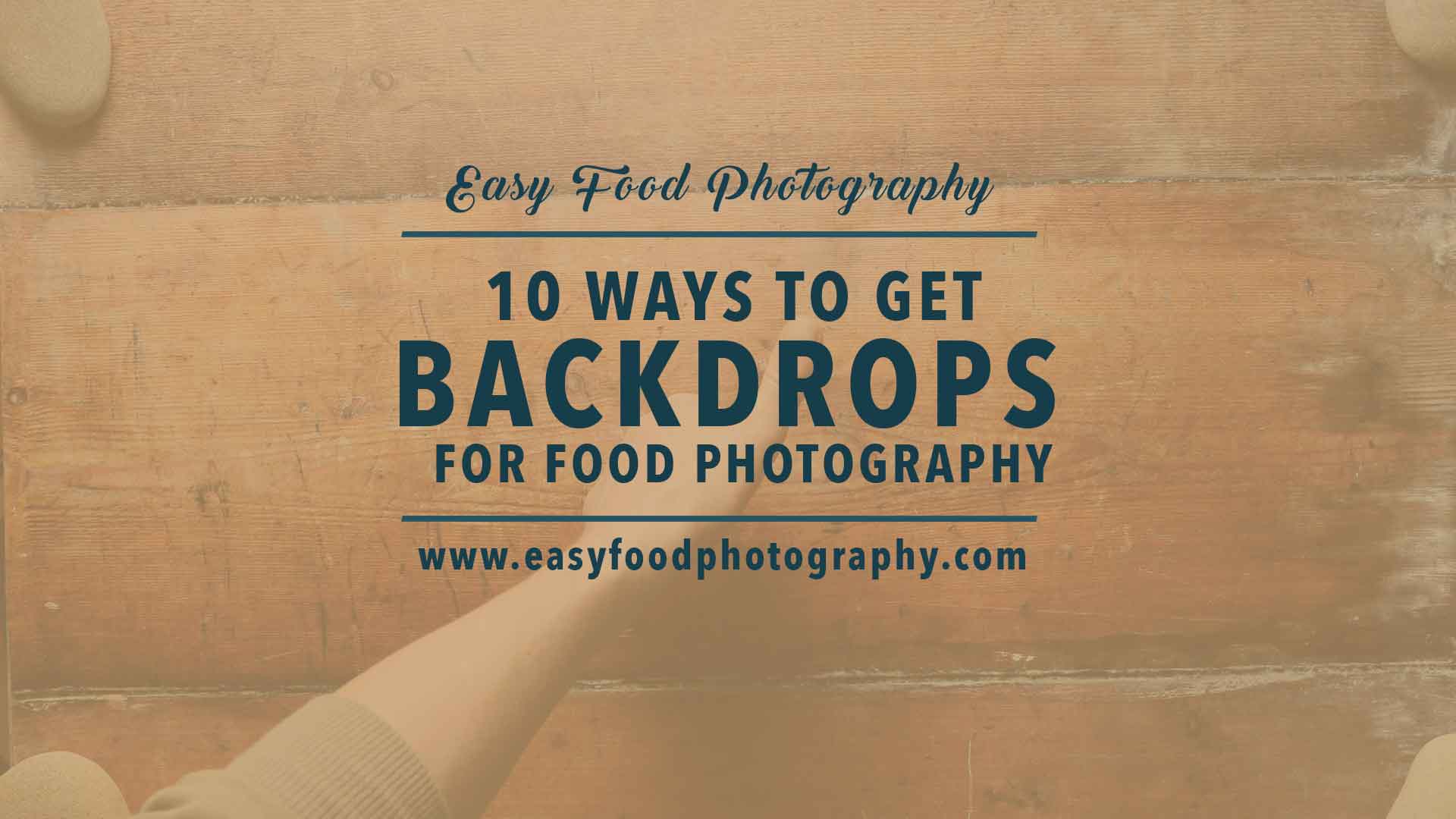 Article Name
10 ways to get backdrops for food photography in 2022
Description
Backdrops can make a huge difference to your food presentation. They can be the crucial detail which brings your food to shine and make your image special or leave it in averageness. The right background can help to pop the colors of your food. Finding the right background for your shot doesn't have to be difficult. You can find photographic backgrounds almost everywhere at home. Most of them are completely free of charge.
Author
Publisher Name
Publisher Logo