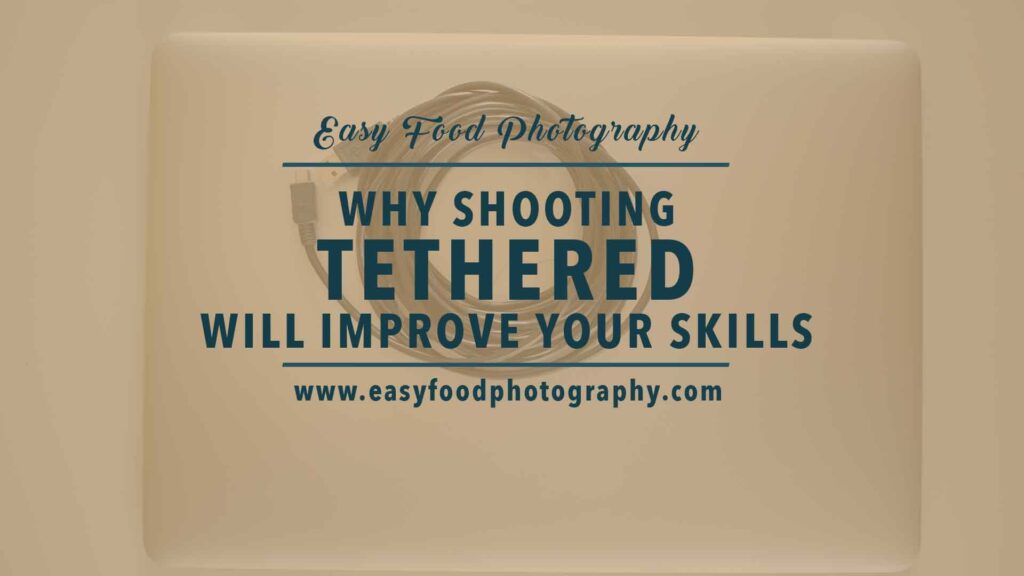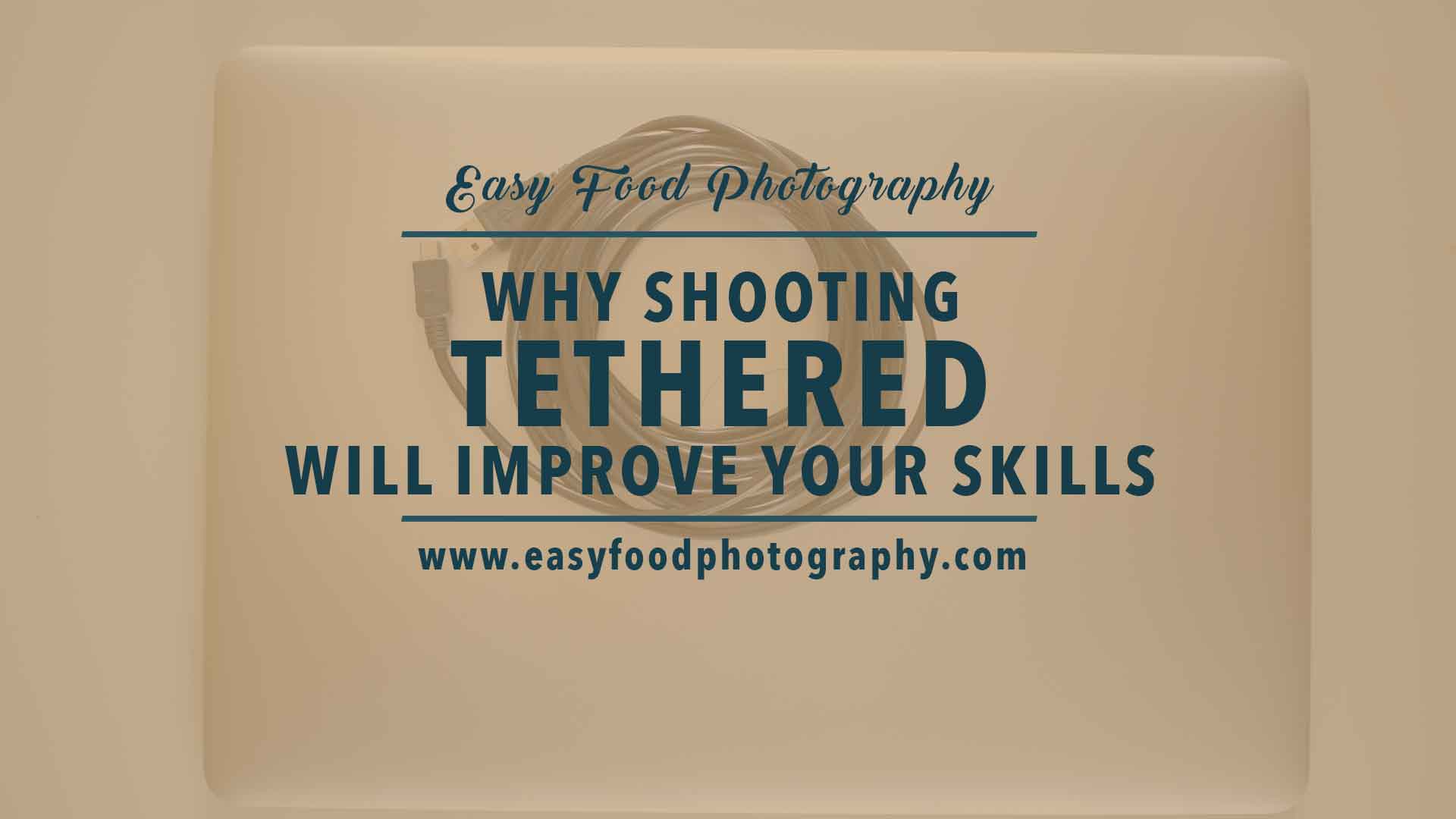 What tethered shooting is
Tethered shooting means that you connect your camera to a computer via a cable while shooting and use remote control software to control and monitor the entire shooting process on a computer screen. This results in some decisive advantages for the photographer.
When you are into food photography you watched probably already a bunch of tutorials where you often see pro food photographers shooting tethered. You may be asking yourself why the heck are they doing it and what are the big advantages out of that?
I can tell you straight at the beginning that shooting tethered will improve your food photography immediately. I show you how and why in a minute. Just follow the reading.
The 10 advantages of shooting tethered
In doing that you will unleash a bunch of interesting options like:
the ability to control your camera from distance,
the possibility to have a "live view" which allows you to see even before you push the trigger what your final composition will look like,
the option to composite multiple exposure and images together easily on or after the shoot for post-production and retouching workflows,
fully control over your focus because you could perfectly manually set it up,
the ability to develop your image idea quite easily in going back and forth your gallery,
workflow optimization: tag, rate, compare and share images while you shoot
it's a good backup method and reduced the chance of image loss because you can store your images on your computer and the memory card inside your cam
it's a time saver. You can work much faster once you get used to that workflow and last but not least
you will butter your clients and show them your vision because they are able to see the pictures on a big screen while you doing the job.
What you need to get started
As I mentioned already the setup is quite easy and straightforward. You need a camera on a tripod and a long USB cable and a computer with some remote software installed.
If you want to be mobile I recommend implementing a laptop into your workflow. That's all the magic of shooting tethered. Nothing to fancy. I'm pretty sure you can handle it.
What you really need is
a camera,
a tripod,
a 5 to 10 meter USB cable,
a computer or laptop and
some tether software.
Pro tools provider
There is a company called Tethered Tools which is specialized in providing tethered tools for photographic workflows, but they are offering their products in a pro price range.
In the beginning, I recommend ordering a 5m USB cable for your needs for a few bucks. I found some good choices which are working for months now for me at Amazon for cheap. The prices are more affordable.
Because these long cables can break easily I usually buy two or three of them to have always one as a backup solution in my toolbox. You don't want to be at shooting and running out of your options because of cable breaks. As a general pro tip think always about your backup methods.
Which software to choose for your needs
You have a broad variety of options when it comes to tethered software depending on which camera, model, and brand you are using.
If you want to go pro there is only Capture One Pro for you. Capture One Pro is the industry standard for shooting tethered in a professional environment. That's what everybody in the brand world will expect from you. But it comes with a quite high price tag of around 300$.
Sometimes you get a reduced special deal if you buy a new pro cam too at some reseller sites. It supports over 500 different camera models and brands.
Adobe Lightroom
If you are looking for a cheaper pro solution you could subscribe to Adobe Lightroom for 9.99$/month. The advantage of Lightroom is that it's proving a tethered generic workflow to nearly every cam and it's always up to date, but as a big con you don't get a "live view" option.
I will explain what and for what that is further down. The big advantage of Lightroom is that you can materialize your client's wishes right on the spot to get them and pre-visual an idea of the final processed image. Of course, you can do that in Capture One Pro, too.
Inexpensive manufacture's choices
Nevertheless, there are a bunch of inexpensive and mostly free options for you too at the beginning. Usually, brands deliver their cameras with their own remote software solutions for free. Just check your manufacturer's homepage to find out.
A good overview is also shown at the Tethered Tools page at https://www.tethertools.com/tethering-software/.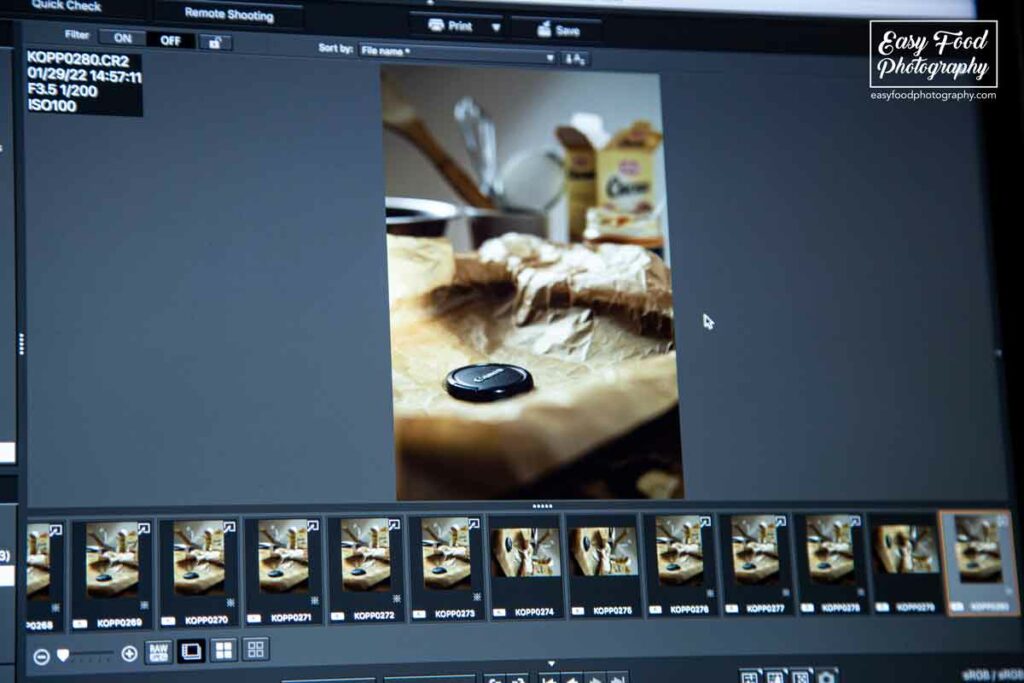 Canon shooter can use the Canon EOS Utility tool
If you are a Canon shooter like me for instance, they have a software called Canon EOS Utility which is shipped with every purchased cam or can be downloaded directly from the Canon homepage. Basically, it's a fully remote control software. It is a good choice to get you an inexpensive "live view" option.
Live view is a big advantage and will speed up your workflow
As described above already the "live view" option is the main reason why you should start shooting tethered immediately.
The live view gives you the possibility to see what you are doing right on the spot on a big screen. What you see is what you get. That allows you to have full control over your scenic development even before you release the trigger.
With the live view mode, you can easily control your composition and rearrange it or do some changes. In the beginning, it may feel like slowing down your process, but once you are familiar with it, I swear, it will fasten the whole process.
Stack your photos easily in Photoshop
As a second big benefit, the live view mode gives you the easy option to stack your images in Photoshop or any other post-processing software later on.
That's because in a tethered workflow your cam is usually on a tripod and the images are more or less aligned already. That allows you to easy to comp multiple exposures and images together and do some post-processing magic.
Control your focus manually
The third big advantage of the live view mode is that you can control your focus perfectly manually. That's a big pro because food photography is often about shooting near the minimum focus distance range and at that point, it can sometimes be hard to find the right focus.
So as a recommendation find yourself a software solution where you have the live view option. This will make your food photographer's life easier.
The big advantage when shooting flat lays
Think about it. When you are going to shoot overhead shots like typical flat lay still-life food imagery tethering your camera is the best thing to do because you don't want to touch your cam every time you want to change something and climb up on the wonky table and possibly destroy your set by falling off?
You just put your cam on a tripod or a rig, tether it and you can do all your camera settings being changed easily with your remote control software. That's a big-time saver.
And saving time will give you more time to develop your final image. This will be satisfying for you and your client at the end of the day.
Shooting tethered gives you a backup in no time
When you are shooting in a professional environment you should always back up your footage as soon as possible. With some pro-consumer cams with two memory card slots, you have the option to backup your images on the second card right at the moment after you shot it.
Namely, you have a backup then, but you still have to transfer it from the memory card to another data carrier like a hard disk. A tethering solution gives you the option to backup your footage on your preferred hard disk right on the spot.
That's speeding up your workflow for sure because you can make some basic post-processing magic right immediately. And your clients will love you for that.
And by the way, you are looking like a super pro by doing that. So your tethered workflow will start to impress people.
Conclusion
Shooting tethered isn't technically hard to execute. By doing so you get a bunch of new and interesting options for your food photography which will lead to better results.
Once implemented it will speed up your workflow over time. It gives you more freedom to buttering your clients as well because they can see your image right on the spot on your computer screen.
And the good thing is you only need a few things to set a tethered workflow up. Some kind of computer, a USB cable, your camera on a tripod, and some tether software. That's basically it.
The overall best thing is using the "live view mode". With that, you can see your final composition before you put the trigger. And you have the possibility to easily layer multiple images in post-processing.
Another big advantage is that you have full control over your focus. You can easily set it manually by being your image on a big screen. And you can to all your changes in the cam and flash settings from distance.
As a résumé, there is no longer an excuse for not implementing a tethered solution in your workflow. It will help to make you even more professional on your food photography journey. So get up and get it done right now.
If you liked that article and got something out of it I would love to see it shared. Feel also free to join the forum and discuss your food photography issues together with the community. Thanks.

WHY SHOOTING TETHERED WILL IMPROVE YOUR FOOD PHOTOGRAPHY was written by EasyFoodPhotography founder and editor Alex Fuchs. Alex loves photography and good heavy stoner rock music. His food styling skills are restricted, but he is working on that. When people approach him saying "You can't do that" his maxim is always: I'll do it in a minute. He loves to be challenged. Follow his Instagram feed. You read "Why shooting tethered will improve your food photography".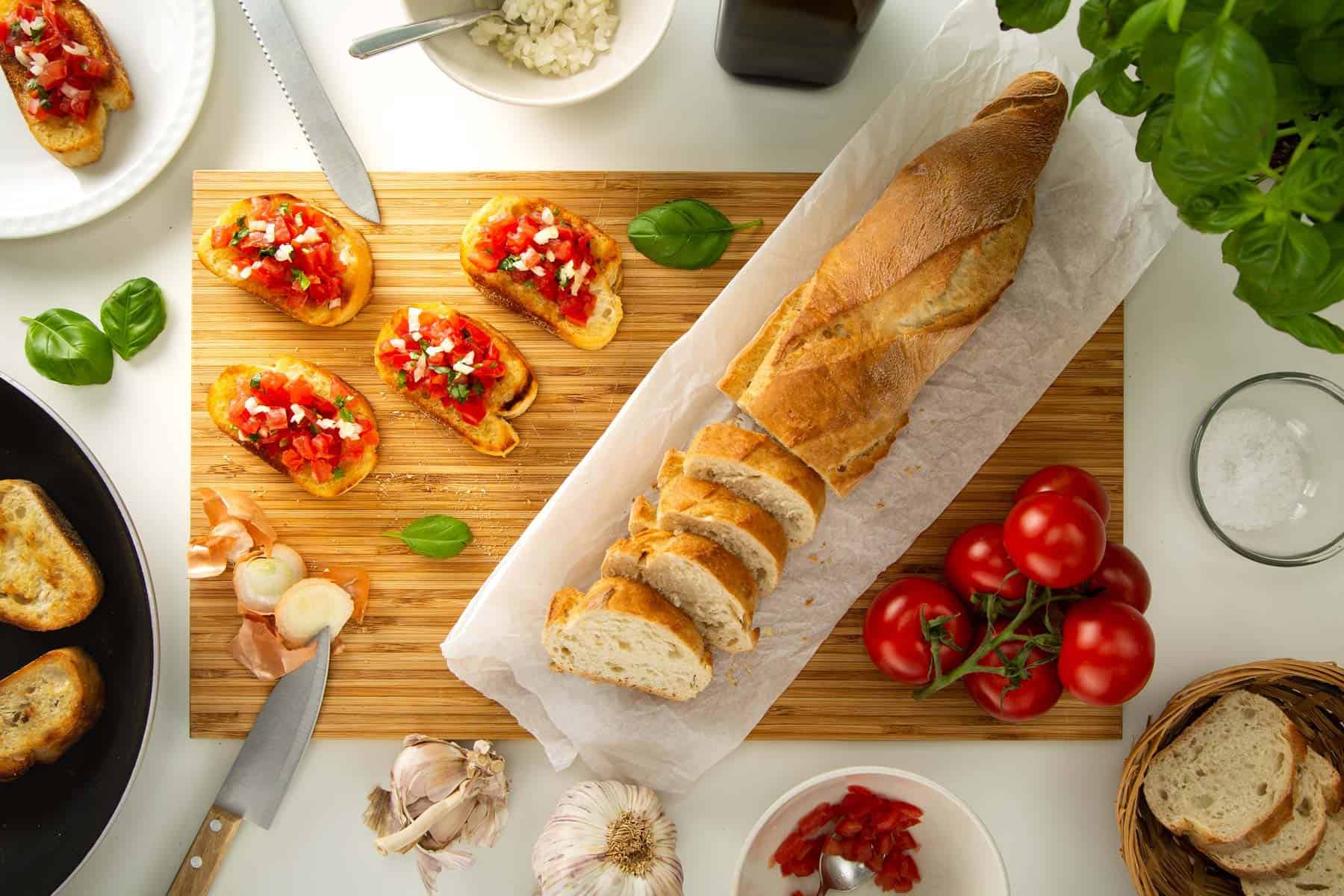 We all love a good story, don't we? The art of storytelling The basic idea of storytelling in food photography...
Read More
Feel free to subscribe to my newsletter.
I will keep you updated from time to time.
Summary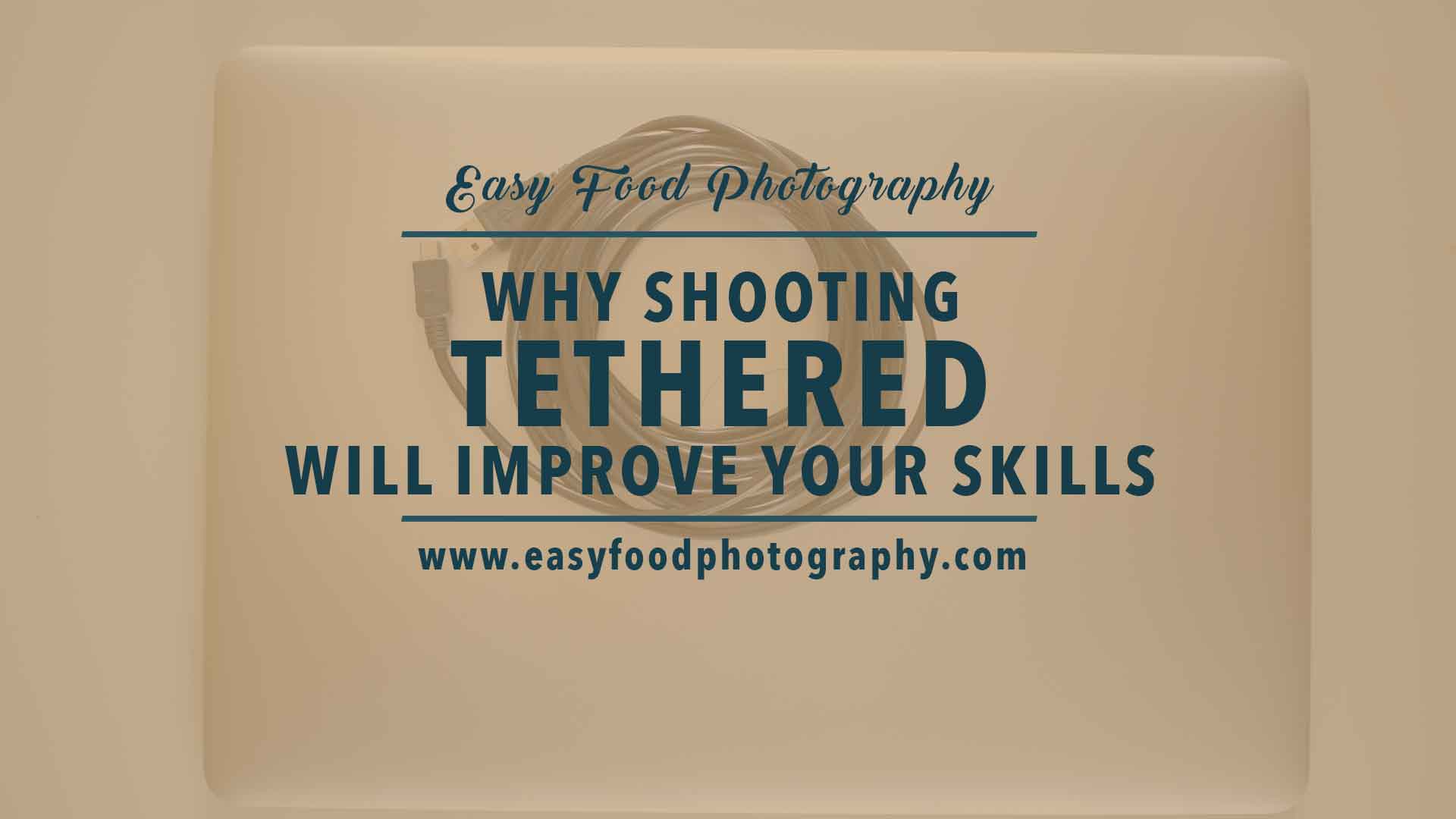 Article Name
Why shooting tethered will improve your food photography
Description
Shooting tethered isn't technically hard to execute. By doing so you get a bunch of new and interesting options for your food photography which will lead to better results.
Author
Publisher Name
Publisher Logo